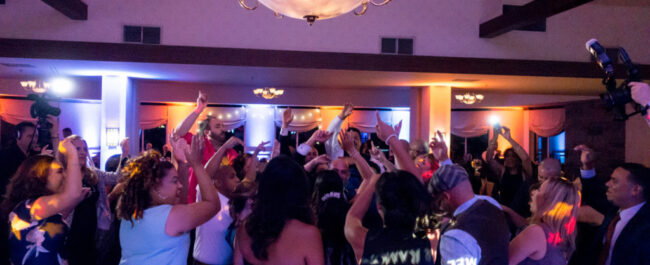 One of the most common worries expressed to us by our prospective clients, time and time again in initial meetings, is the fear that guests won't have fun. "We just want our friends and family to be on the dance floor and have fun at our event!" Having that mindset is one of the key factors towards having what many would label, a successful event.
Let's face it, the most fun events are the ones that remain the most memorable. when you talk about an awesome time you had at a party, wedding, or event, you don't say "YO! those flowers were siiiick!" or; "dang that wedding planner was on point!". among the many small details your guests may remember about your event, there are two details they will certainly recall; the food/drink, and the entertainment.
As it stands, the average price for professional wedding djs sits below the average prices for: florists, bands, photographers, videographers, limo services, party planners, venue rentals, and even wedding dresses (theknot.com 2022). let that sink in for a moment; you pay more for dying plants than for what many consider to be the most important factor in having an amazing event!
This theme has been a common trend for the duration of our tenure at the top of the tri state area market. since we began doing weddings in 2003, we have had many clients come to us after attending weddings where the entertainment was sub par, with fears that their own wedding may face the same forgettable fate. sadly, it takes a bad experience to help those clients gain a clear vision of what they want. yes, of course you can find a $1000 wedding dj (or less we suppose), but do you really want to take that chance on one of the most important days of your life (or as we like to put it, the only time where every single person important to you is at the same place at the same time)?
By all means, make sure those flowers are lovely, and your limo service rolls up in the most picturesque of chariots. find the right photographer to solidify your key moemnts in time, and say yes to that perfect wedding dress. but above all, if you want your guests to remember the amazing time they had at your wedding or event, please have your priorities straight when seeking the heart and soul of your reception; your wedding dj!